If you've ever found yourself in the midst of a manufacturing urgency, you may have thought of picking either manual milling or CNC milling services.
While manual milling machines are used for certain types of tasks, these machines still have their own shortcomings.
On the other hand…
Custom CNC milling lathes found in CNC milling shops are more technologically-advanced, provide MORE accuracy, and get the job done in less time.
Yet, the question remains:
Which is an overall better choice for your manufacturing needs?
To make things simple, we've compiled this entire blog to help you out.
But first for those new to the term, here's a refresher.
What is CNC Milling?
In simple terms, CNC milling or Computer Numerical Control Milling is a process of machining in which rotary cutters leverage computerized controls to remove materials from the workpiece and progressively produce a finished product.
The cutting is done in different directions on multiple axes with adjustable cutter head speed and pressure. This allows the machines to accurately produce parts from scratch from numerous materials like metals, plastic, glass, and even wood.
Great! Now that you're familiar with what CNC Milling is all about, let's get to the main part.
Benefits of CNC Milling Machines
Here's what makes CNC milling machines an all-around solution for any manufacturing requirement.
They Offer Laser-sharp Precision
The main area where CNC milling machines beat their traditional counterparts is in accuracy.
CNC mills utilize high-speed cutters that let them perform shallow cuts as well as reduce engagement times. This makes CNC mills ideal for productively cutting parts for small components.
CNC mills provide excellent geometric accuracy for molds and dyes with unparalleled surface texture finishes hard to achieve on manual machines. They also reduce the manual polishing time by a great deal.
Thanks to advanced computer technology, these machines easily eliminate human errors and produce flawless parts in less time.
If you're having a manufacturing requirement that needs great attention to detail, CNC milling machines are an ideal option.
They're Incredibly Versatile
Most often, businesses have to deal with the manufacturing of several materials at once. From plastics to metals and glass, it can be quite time consuming to produce such a wide range of parts on traditional milling lathes.
CNC milling machines help overcome this problem.
They are designed to work with different types of materials and allow part manufacturers to easily trim and shape different parts with ease without sacrificing productivity.
The versatility of CNC mills gives producers the ability to multitask and work on different parts at the same time.
They're Best for Mass-Production
The production volume achieved by CNC mills under a short time can be INCREDIBLE.
Thanks to the technology behind CNC milling, the machines can rapidly produce and reproduce accurate parts with the same measurements and thickness.
While there is a high possibility of the output of traditional machines getting affected based on the operator's work hours, CNC mills can practically work 24 hours a day non-stop.
As CNC machines don't tire or require breaks, they serve as a great choice for mass-producing parts more efficiently.
So if you are short on time and need several parts manufactured in bulk, CNC milling machines can outrun any manual machine in terms of speed and deliver precision parts in voluminous quantities.
They Come With Advanced Features
Compared to traditional milling machines, CNC milling machines are loaded with top-notch features like an integrated touchscreen, dedicated software controls, and Automatic Tool Changers (ATCs).
This gives CNC milling shops more control to carry out different milling operations and create simple as well as custom parts as per your needs.
Being fully automated and run by computer instructions these machines don't require special manpower to operate.
CNC milling machines are also capable of smartly automating tasks that help them make optimum use of materials and avoid scrap wastage.
They Eliminate the Need for Inspection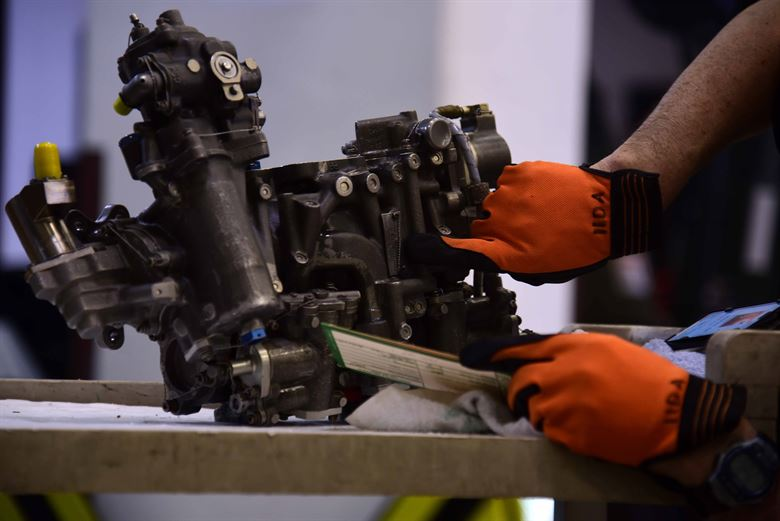 Since manual machines rely on operators to manufacture parts, they increase the dependency on inspection checks for quality. This slows down the process and lengthens the delivery time.
This doesn't necessarily happen with CNC milling lathes.
CNC mills let you produce superior quality components in one go without having to separately inspect each part for quality.
By simply inspecting the first component produced, milling operators replicate the exact same part for mass production, resulting in a whole batch of quality parts.
Thus, CNC milling machines can easily produce components under quick turnarounds and shorten the delivery time to a great extent.
Final Thoughts
As you can see there are plenty of benefits of opting for CNC milling compared to traditional milling.
CNC milling machines not only provide value in terms of quality and precision but also help you save costs and amp up the delivery time of your parts.
Speaking of CNC milling, if you're looking for a CNC machine shop that offers CNC milling services we'll be more than happy to give you a hand.
We are a precision machine shop based in Houston, Texas that offers different types of CNC milling services.
We have an exotic metal experience and can help you machine parts with the right tolerance for any material from wood to glass, metals, and plastics.
Reach out to us and let us know your requirements so that we can help you better.
Please follow and like us: